In The News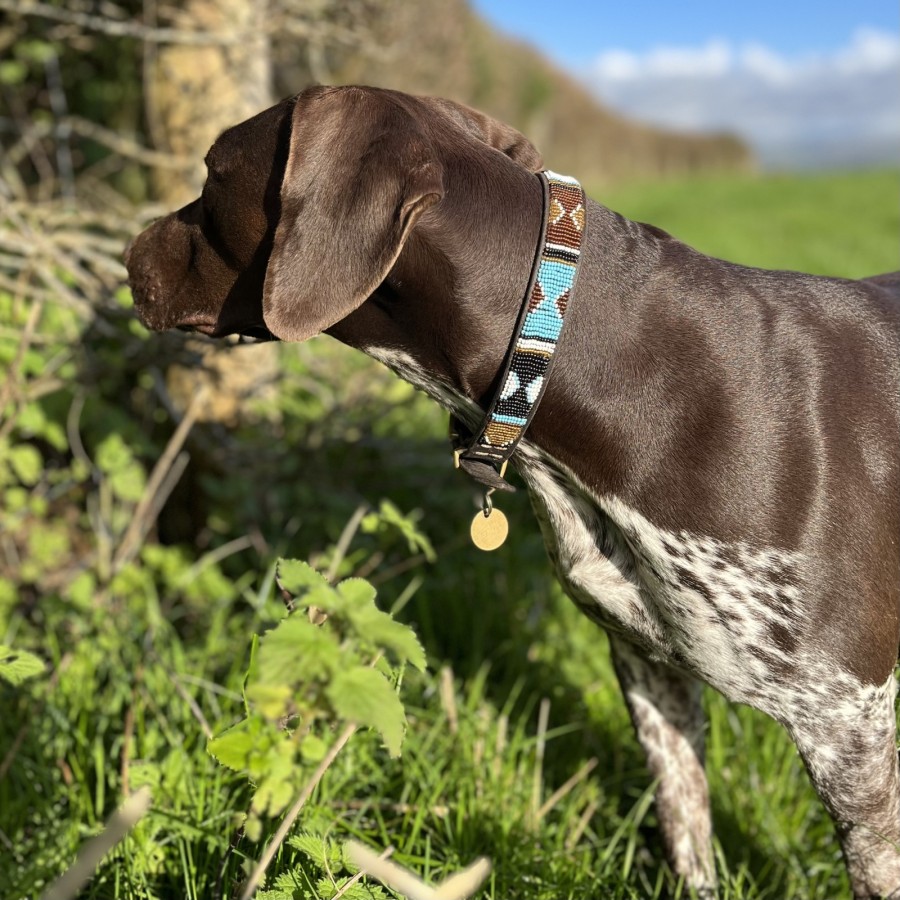 Working dogs do need collars and identity tags when in public
Recently we had a lovely young cross breed terrier turn up in our garden.
Concerned for his welfare we got a slip lead around his neck – as he was wearing no collar and therefore no identity tag. Our first concern was that this cute little fella might have been abandoned.
We started with a post on the local community Facebook page, and then popped him in the car for a tour around the village to see if anyone recognised him. In this fact-finding mission we ascertained, the same little chap had shown up in the village the week before, but no one knew the owner.
Next step was our village veterinary in residence who kindly did a scan of his microchip, to find that the microchip was issued in Ireland, but it was not registered to anyone. Taking his advice our next step was to take him off to a local dog shelter. When fortunately, his owner turned up at the door (the local village network had worked!). I politely pointed out that if the little chap was prone to wondering, it would be really helpful if he had a collar and an identity tag. I was told in no uncertain terms he was a 'working' dog and did not need one. 
This seems to be a popular (or convenient) misconception, we often hear it from 'working dog' owners when we are at shows selling our collars.
The control of Dogs Order 1992, clearly states:
"every dog while in a highway or in a place of public resort shall wear a collar with the name and address of the owner inscribed on the collar or on a plate or badge attached to it".
This does not apply to:
(a) any dog while being used for sporting purposes,
(b) any dog while being used for the capture or destruction of vermin,
(c) any dog while being used for the driving or tending of cattle or sheep,
(d) any dog while being used on official duties by a member of Her Majesty's Armed Forces or Her Majesty's Customs and Excise or the police force for any area,
(e) any dog while being used in emergency rescue work, or
The only complete exemption applies to:
(a) any pack of hounds,
(b) any dog registered with the Guide Dogs for the Blind Association.
Your tag should ether be attached to a collar or harness. We use our surname, postcode and a couple of telephone numbers. Best not to include the dog's name – in case he is stolen.  It's also important to ensure your vet checks your dog's microchip is working fine regularly, and also check your registration contact details are up to date with the microchip provider. It could really make the difference between having your pet returned quickly at little cost.
The law states, an owner of a dog or the person in charge of a dog who, without lawful authority or excuse, proof of which shall lie on him, causes or permits the dog to be in a highway or in a place of public resort not wearing a collar, shall be guilty of an offence against the Animal Health Act 1981.
Lucky for this owner, if we had made it to the local dog pound - the dog could have been seized and treated as a stray dog under section 3 of the Dogs Act 1906 or under section 149 of the Environmental Protection Act 1990. The fines are up to £5,000 or at least he would have paid in region of £45 to get the dog released from the pound.
A tag and collar/ harness is a much less expensive alternative. It would have also saved us 2 hours of time and effort!
We  don't sell tags but docCheck out our beautiful Maasai hand beaded collars https://www.miloandpi.uk/maasai-dog-collars