About Us
Milo & Pi Luxury Dog Beds
We spent years trying to source quality, washable and beautiful bedding for our doggy companions and home. 
We waded through a sea of plastic, polyester batting, hollowfibre and memory foam products that proved difficult to launder, became really smelly and were impossible to recycle or dispose of responsibly. 
Inspired, we embarked on a journey to source beautiful, sustainable products that are as good for your dog and home as they are for the environment.
We've found some amazing craftsmen and suppliers along the way, who have pride in the products they produce. They have harnessed the potential of our natural environment and have design and sustainability at their core.
Over the years we have shared our home, with four amazing canine companions – Meg, the working Huntaway Sheep Dog; Hobnob, the Greek rescue Hare Hound; Milo, the high maintenance German Shorthaired Pointer and now her extremely laid-back son Pi. Each one has enriched our lives, joined us on great outdoor adventures, led us to making new friends and have made our house a home.
We hope you love our dog beds, as much as Pi loves his #SleepLikePi
David and Carolyn
Andrew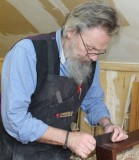 Andrew is our master cabinet maker. He spent his early years in the music industry, (his past time is hand crafting guitars) before moving onto shop fitting and cabinetry. After several years working with a master cabinet maker and perfecting his trade. Andrew moved to Cornwall and set up his own business making furniture, windows and of course guitars…
Richard and his team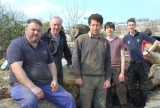 Richard runs his family's traditional joinery business in Cornwall, following many years of study and training to become a cabinet maker and hard graft in the family business. His passion is rescuing naturally fallen trees and turning them into beautiful pieces of furniture. Richard planks and air dries for many years, trees that otherwise would have been destined as firewood. Our Cornish beech for the manufacture of our painted dog beds comes from Richard's wood pile or of course you can have natural, unpainted Cornish beech.