Natural dog mattress
A unique natural dog mattress
Our natural dog mattress provides supreme comfort and support edge-to-edge. Each mattress is filled with natural layers to provide ventilation (reduce odours), warmth and comfort. Combined with the aeration holes in the base of our hand crafted dog beds, or with regular airing, the mattress draws upon nature's own breathable, hypo-allergic and insulating properties to give your pet an optimal sleeping environment. Our mattresses are made to order, please allow up to 4 weeks for delivery.
Find the perfect mattress for your dog
Our hand crafted dog beds come in four standard sizes: small, standard medium, tall medium and large, plus we can cater for bespoke sizes to suit larger dogs, dogs that share or the space you have available.
You can just purchase the mattress, with your choice of upholstery standard cover. These are available in three standard sizes small, standard medium, tall medium and we can create a bespoke size to suit larger dogs, dogs that share or for built-in dog beds in the home.
Find the perfect mattress for your dog, mattress dimensions and how to measure your dog.
Why choose a natural dog mattress?
Our inspiration was to develop a more comfortable, hygienic, sustainable and launder-able alternative to chemically treated and manufactured polyester batting, hollow fibre and memory foam mattresses. This journey led us the Natural Mat company based in Devon who have worked with us to produce a unique natural pet mattress.
Our natural composition mattresses and beds are designed to breath, be cleaned, elements can be replaced if required and ultimately, our mattresses are completely recyclable.
Naturally hygienic & breathable

Fully washable mattress cover & decorative covers

Sustainable & fully recyclable
Natural dog bed mattress composition
Small mattress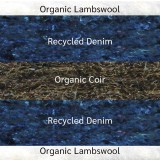 The breath-ability and structure in this mattress is courtesy of natural organic coir, the husk of a coconut, that is pressed into sheets of springy and breathable fibre. It is sandwiched with a deep comfort layer of recycled cotton denim and then a final layer of organic lambswool. Wool's inherent breath ability and moisture-wicking properties help regulate body temperature - keeping your pet cool in the summer and warm in the winter. The moisture-wicking properties create an anti-microbial environment that prevents mould, mildew, and ultimately odours.
Medium and large mattress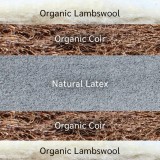 Our medium and large mattresses have added structure and spring in the form of a natural latex core. Naturally hypoallergenic and breathable, this provides comfort and support for tired muscles and joints for larger dogs that weigh from 25 kilos to double that...or more. The natural latex is sandwiched between organic coir and an organic lambswool comfort layer.
Greener for your home and the environment
Organic Coir
Grown organically in Sri Lanka. The farms are certified by the Control Union as organic and environmentally responsible and the Coir is produced without pesticides and chemical fertilisers. The Coir is coated with natural rubber latex to give it extra spring and strength.
Natural Latex
Sap is tapped from Hevea rubber trees. The sap is filled with air bubbles to transform it into an astonishing, supportive and comfortable mattress filling. It's naturally hypoallergenic and breathable ensuring it's an ideal natural replacement for synthetic foams.
Organic Lambswool
Organic lambswool is sourced locally from Soil Association certified farms in Devon, Dorset and Cornwall. Lambswool is naturally fire retardant and is a superb insulator trapping and releasing heat where your pet needs it. It is also naturally anti-microbial to help prevent dust mites
Recycled denim cotton
Provides an additional springy comfort layer to our smaller mattresses, used to keep the mattress naturally plumped.
Cotton ticking mattress cover
The natural ticking striped mattress cover is resilient and long lasting. It has a zip for easy removal and washing. The covers are treated with an OEKO-TEX® certified hypoallergenic natural geraniol to prevent bed bugs, dust mites, mosquitos and moths. This treatment is of 100% plant origin and is made up of essential oil extracts of lavender, lemon and eucalyptus to protect your mattress from pests in the greenest and most natural way.
Caring for your mattress.